Luxury Spa Villas & Executive holiday accommodation in Yungaburra,
Atherton Tablelands
You'll love these luxury spa villas and self contained Executive Holiday House located in the very heart of historic Yungaburra.  Accommodation options to suit couples, families, groups and Execs in a five-star finish set in a natural paradise.
Yungaburra is one of the Atherton Tablelands most sought after destinations. This quaint, historic village is in the heart of the Crater Lakes district, on the waterfall way and surrounded by lush, green ancient rainforests.
Yungaburra accommodation is always in demand. Book ahead and direct with us to secure your preferred location and dates. We're pleased to provide the very best luxury escape in Yungaburra.
Please note: booking online via our websites direct is the same price as calling us. We offer discounts for 5 and 7 night stays through our Packages available online only.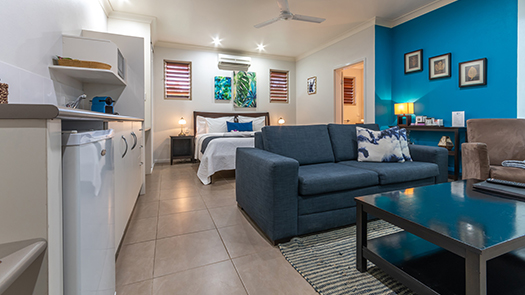 Blue Summit Hideaway Luxury Studio Villas
Award Winning Luxury Yungaburra Accommodation
Reservations and Bookings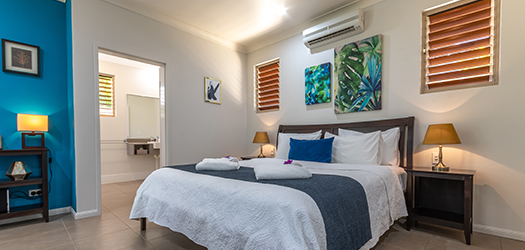 Yungaburra accommodation rates are provided here for your easy reference.  If the booking calendar is showing no availability please phone us direct on +61 7 4095 2218 as we may be able to offer you a special deal at one of our other properties.
Please note that no smoking is allowed in the villas or the courtyard. A smoking area is provided near the villas. There is a no pet policy at all of our Yungaburra accommodation.
Yungaburra is located a one hour drive from Cairns, if you are taking the Gillies Highway. Alternative routes include the Kuranda Range and Palmerston Highway (travel times vary). This small village community is home to a permanent population of just under 1,000 residents and is positioned at the top of the Great Dividing Range, 750m above sea level on the Atherton Tablelands.
It's a tropical, green paradise that invites you to breathe deeply of the fresh mountain air, before immersing yourself in a natural landscape, where rich rainforest merges with volcanic crater lakes and rolling green pasture.